There are more things to do in Sanya than most people realilise!
Sanya is a popular tourist area for Chinese domestic tourists as well as international travellers. Famous for its exotic beaches and serene coastlines, there are also lots of things to do in Sanya other than lazying around on the beach!
For those of you who follow my travel stories on Instagram, you will know that I like to mix things up on my travels. Lazy beach days are great, but so are zip lines through the forest, playing with monkeys and experiencing the serenity of Buddhist temples! And these are just a few of the cool things to do in Sanya…. read on to find out more about the best things to do in Sanya…
Where is Sanya?
Before we get into the details about the best things to do in Sanya, lets first take a look at the geography of the place.
If you have never travelled to China, then you probably haven't heard of Sanya. However, within China, it is pretty well known- it's up there with Hangzhou– another place that is very popular with domestic tourists, but that most people outside of China have not heard of.
Sanya is located in the far south of China on Hainan Island. Hainan Island is the southernmost part of China.
The latitude of 18° 15′ N, places Sanya at roughly the same distance from the equator as Hawaii (the real Hawaii).
Hainan Island is only a short distance (just over 600km) from Vietnam. It sits just below Hanoi.
It takes around three hours to fly to Sanya from Shanghai and about four hours to fly to Sanya from Beijing.
The island of Hainan is bigger than you might think. The island is 13,650 mi² in size. The capital city, Haikou is more than a two hour drive from Sanya.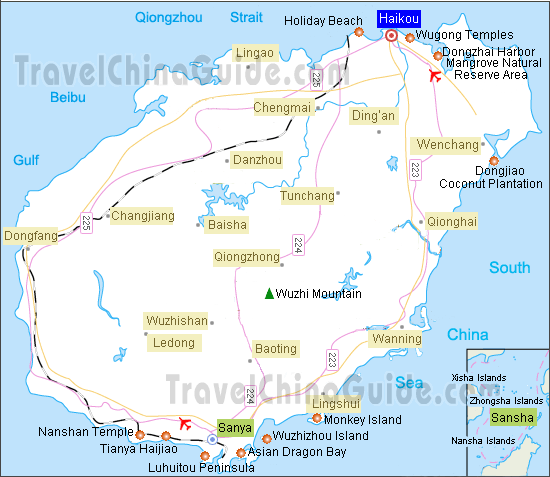 Sanya is found in the very south of Hainan Island.
Sanya has its own airport, which is pretty convenient, although flights in and out of the airport are almost running at full capacity, meaning that tourism development and planning is somewhat restricted until an expansion has been completed. Not to worry though, there are still plenty of flights to get you there!
The easiest way to get from the airport to your hotel is by private car. If you have the DiDi app you can use that. Or you can book a car in advance here.
Sanya is well connected to the rest of the island by ground transport. The most convenient way to travel is to hire a car or to hire a driver. Note- if you want to drive in China you must have a Chinese drivers license.
There are also buses and trains available, but these are less convenient.
Tourism in Sanya
Sanya is not the place that it was just a few short years ago. In fact, I was flabbergasted when a friend had watched my Instagram stories and replied asking about the prostitutes! What prostitutes, I responded?! It seems the Sanya that I experienced was very different from the Sanya that she had experienced a decade or more ago…
So what has changed?
Well, pretty much everything.
As with most of China, Sanya has been developed at a rapid rate. It is not uncommon for a floor a week to be built on high-rise building in China, and Sanya has proven to be no exception of this impressive infrastructural development. And there are many more things to do in Sanya now then there used to be.
Chinese tourists have become the world's biggest market for outbound tourism in recent years. Increases is disposable income, personal freedoms and new found desires to travel the world have resulted in many nearby destinations reaping the rewards- Thailand and Bali being particular favourites.
It makes perfect sense that China would actually want to entice some of their tourists to stay in the country; allowing for the country to retain some of the economic benefits of tourism. Knowing that many tourists are in search of sun, sand and sea, China could see the potential in Sanya- their own tropical paradise island.
Over the past decade or so, significant tourism development has occurred on the island of Hainan. Quad bikes now frequent the beaches, forests have been turned into tourist attractions and a whole bunch of monkeys have been relocated to a nearby island! There are a range of things to do in Sanya that were not there just a few short years ago.
Sanya has been transformed as a tourist destination. A place that was once viewed as being somewhat 'seedy' and having an underestimated sex tourism scene, is now a well-renowned beach destination, featuring a large number of high-end resorts and hotels and there are many things to do in Sanya now
Most recently, the island has been declared as a duty-free zone and limits on spending have been increased to a whopping US$10,000! I expect this will further boost the tourism industry in Sanya and encourage further visitors and visitor spending.
Why you should visit Sanya
When I refer to Sanya, in actual fact, I am referring to Sanya and the surrounding areas. Sanya itself is the city at the tip of the island, but the nearby coastal areas and resorts are also worth a visit. There are many things to do in Sanya in these areas.
The main tourist areas of Sanya are:
Sanya Bay
Downtown Sanya
Yalong Bay
Dadonghai Beach
Haitang Bay
Clear Water Bay
Sanya is extremely popular with Chinese domestic tourists. It is also popular with expats living in China and people who are travelling within China.
To me, Sanya lies somewhere between Tel Aviv and Koh Samui.
Sanya doesn't quite have the retro vibes of Thailand or the cheap prices of Vietnam. But it does have a certain level of class about it. Here you will find all the best names in luxury- from the Atlantis Hotel to the Gucci store in the duty-free mall.
Large resort hotels line the coastline, all with their own private beaches. These resorts have everything you could want- restaurants, entertainment, pools, bars, shops, arcades, kid's clubs and more. If it's a relaxing beach break that you're looking for, Sanya has it covered! And if you don't want to hang out at the beach all day there are plenty of things to do in Sanya too.
The downsides of Sanya
The academic in me can't tell you all of the great things about Sanya without also informing you of some of the downsides. Now, I am not suggesting that these things prevent you from visiting Sanya (because you absolutely should go, but it is good to be prepared!
Sanya isn't self-catering friendly. Whilst I cannot speak for every hotel, our apartment, came with an empty kitchen- not even a working cooker. We got it working in the end, but my toddler was less than impressed with her egg in a cup that we served her in the first day before we were delivered some crockery!
If you are reading this article, then the chances are that you are either an expat living in China or you are travelling through China researching the best things to do in Sanya. So, you are probably already aware that cleanliness standards in China are typically not as high as they would be in other parts of the world. While you will probably have your hotel room cleaned each day, you only need to read the reviews on Trip Advisor to see that many hotels suffer from a lack of cleaning.
I spent MANY hours reading reviews and ruling out places that I thought looked good because of complaints about cleaning. Check out my list of recommended accommodations options further down this post for my recommendations. Some of these are places I have personally stayed or they are places that my fellow expats have recommended to me…. and if there is anything that I have learnt living in China, it is that recommendations are invaluable!
My last complaint is the lack of Western catering options. OK, OK, I know- I am in China. And I know that I should probably just embrace the Chinese food. But there are only so many meals in the week that the kids are prepared to eat rice…. I personally found that finding Western restaurants wasn't so easy… so I have listed a few for you at the end of this post (and eating here was one of my favourite things to do in Sanya)- every little helps, right?
Is Sanya really like Hawaii?
The short answer?
No.
The long answer?
Well, kind of….
Hawaii (the real Hawaii) is known for its lush beaches and clear white waters. The beaches in Sanya are nice, but these do differ depending on which area you are staying in- so don't take having super soft sand and pristine waters on your doorstep as a given!
Hawaii is also known for its volcanic landscape. At first I thought that there were no volcanoes on Hainan Island, but it turns out I was wrong. Apparently the Haikou Volcanic Cluster Global Geopark is home to a number of extinct volcanoes and a crater. It is 118 square kilometres in size and is located a couple of hours north of Sanya.
So really, I didn't feel like I was in Hawaii. BUT I do see the similarities, kind of…
The best time of year to visit Sanya
One of the reasons that Sanya is an appealing tourist destination is because it has year-round sunshine, meaning that the various things to do in Sanya are accessible year-round.
The daily average temperature is 25 °C (77 °F) in Sanya and the annual rainfall is 1,279mm (50 inches). Most of this rain falls between June-October, when it is rainy season. However, don't be put off- rain is generally limited to short but heavy evening/nigh time downpours- you can still enjoy the sunshine around the poolside most days.
Generally, us non-Chinese folk will want to spend time basking up the sunshine on the beach or around the pool whilst in Sanya. Whilst the weather is pleasant all year round, I personally wouldn't take my jeans off for anything below about 25 degrees C. For this reason, I recommend visiting Sanya during the summer months, when the average temperate is a lovely 26degrees C.
You can also visit Sanya during the rest of the year. During spring and autumn temperatures are likely to be in the early twenties- so nice, but you might want to pack a cardigan for the evenings.
In winter, temperatures hover at around twenty degrees C. Winter is short here, lasting only around two months in December and January.
Another positive of visiting Sanya is the air quality. Because of its southern location and wind direction, Sanya has some of cleanest air in all of China!
Travelling China? Don't forget your VPN so that you can access all of your favourite websites, such as Google, Gmail, Facebook, Instagram, Netflix, YouTube and more! I recommend Express VPN. Click here to download now.
Where to stay in Sanya
As I mentioned before, choosing where to stay in Sanya is a pretty big deal, bigger than in other places I have travelled to.
When I started my search for accommodation options in Sanya I was initially impressed by the prices. Wow- a 5 star resort for 500rmb a night- what a steal! But as I continued my search I was quickly made aware of why these prices were low.
Trip Advisor reviews showed me that the majority of these hotels were old, run down and dirty. Water didn't run clean, lights didn't work, doors didn't close. There was mould up the walls and dirt in the pool…. need I go on?
BUT there WERE nice hotels with excellent reviews! However, our budget didn't quite allow for us to stay there- maybe next time!
So what were we to do?
Well, after many hours of research, I found us a place that I thought was pretty good, with good reviews close to the things to do in Sanya that we were interested in. It wasn't perfect, but I was prepared for that- so it was fine.
To save you going through the same endurance (OMG this was literally one of the toughest searches for accommodation I have ever done!), I have outlined some of the best hotels in Sanya for you below. I have also described what the areas are like, to help you to decide where is the best place for you to stay.
Each of the links you find below are to booking.com. I find this to be the best website to book my accommodation through when travelling in China. They have Western customer service options should you encounter any issues, an excellent cancellation policy, and you don't have to pay until you arrive; giving you the options to pay with a foreign credit card or using Alipay or WeChat.
Yalong Bay
Before my trip to Sanya, everyone told me that Yalong Bay was the place to be. And there are plenty of things to do in Sanya that are found here.
Yalong Bay is home to the best beaches in Sanya- they really are gorgeous! The bay offers luxury hotels as well as some that are a bit more modest. It also offers seclusion, which is great if you just want to get away from it all.
However, having the best of anything, usually comes at a price…. This is the most expensive part of Sanya to stay in, and it is quite far from many attractions and transport links.
Accommodation in Yalong Bay: My picks
Luxury: The The St. Regis Sanya Yalong Bay Resort offers ultimate luxury! With butler service, a 1200ft infinity pool and its own cinema, this resort has everything you could want and more!
Modest: I've heard GREAT things about the Sanya Marriott Yalong Bay Resort & Spa. With a beach, tropical gardens, multiple pools, kids clubs and some great restaurants, you really can't go wrong!
Something different: The villas at Pullman Sanya Yalong Bay Villas & Resort are pretty special- you can enjoy the incredible views from your very own private pool and hot tub! There is also direct access to the golf course, so if you're into golf- this is the place for you!
Sanya Bay
Sanya Bay is nice. The beaches are nice and the sunsets are to die for! BUT I was categorically told not to stay here by several different people…. why you ask? Sandflies!
Apparently there can be a lot of sandflies in Sanya Bay, especially during the spring and summer months. Sandflies bite and can be very unpleasant. Everyone I know who stayed here advised me against for this reason. There might be some things to do in Sanya here, but the flies put me off.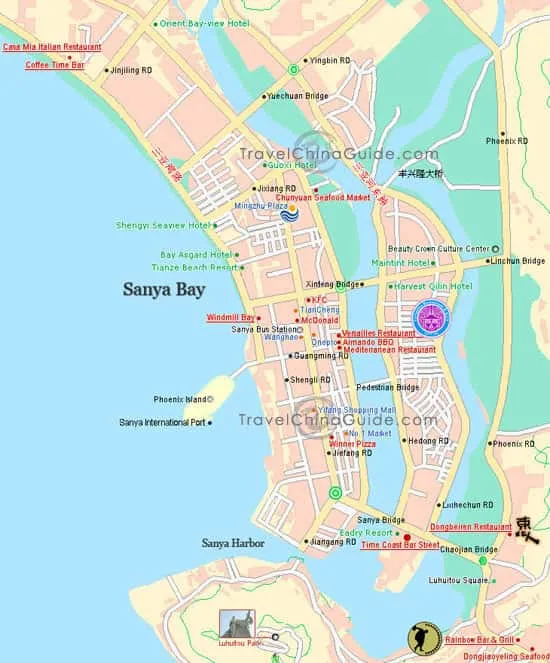 Having said that, you can get some pretty good deals in Sanya Bay. This is where you will find many of the budget-friendly accommodation options including hostels. The location is also pretty convenient.
Accommodation in Sanya Bay: My picks
Luxury: Wyndham Sanya Bay this hotel is top notch, with lovely pools, a spa a gym and a hot spring bath!
Modest: The Holiday Inn Resort offers some of your favourite home comforts and a standard of service that is welcoming and familiar. The pool is great too!
Something different: A number of modern apartments have begun to spring up in the Sanya Bay Area. These offer excellent value for money and come equipped with lounge area, kitchen and bedroom(s).
Downtown Sanya
Downtown Sanya is the most built up area with lots of things to do in Sanya. Here you will find the traditional Chinese hustle and bustle of its life and many of your favourite amenities. There are even a couple of supermarkets selling Western foods nearby.
To me, Downtown Sanya was the least desirable area to stay. I personally don't want to be staying in the city whilst on a beach holiday, but if that's your thing then you will probably like it!
Downtown Sanya is home to a variety of types of accommodation and you can find some of the best bargains and low-cost options here.
Accommodation in Downtown Sanya: My picks
Luxury: The Sanya Rock Platinum Sea View Hotel offers excellent value for money for a five star hotel! The prices are low and the service is high- what more could you want?
Modest: The Holiday Sanya City Center has excellent customer reviews. They are particularly renowned for their tours, which is great if you want to get out and about.
Something different: The Sanya Bay Mountain and Sea Apartment is situated in a nice resort that has a great location. It's close to the beach, has great mountains views and is also near to many of the local tourist attractions.
Dadonghai Beach
Dadonghai Beach is one of the most popular areas to stay in Sanya.
The Sanya Dadonghai scenic area gives you the best of both worlds: nature and city. The 2.9km long beach here is gorgeous and you are surrounded by picturesque hills. All the while, Downtown Sanya is only 4km down the road.
Accommodation in Dadonghai Beach: My picks
Luxury: The InterContinental Sanya Resort has 5 outdoor pools, an Intercontinental Spa, tennis courts, a gym, a ballroom and 6 restaurants and bars- ranging from Hunan cuisine, seafood to classic western food, from homemade beer to BBQ dinner buffet.
Modest: The Sanya Sun Seaview Apartment offers great value for money as well as privacy. You can make your own breakfast and sit on the balcony enjoying the views- it is lush!
Something different: The Banyan Tree Sanya features an elegant collection of villas with a private pool and a tropical garden. I can't think of anything better than relaxing with a glass of fine wine on the cabana whilst watching the sun set.
Haitang Bay
During our visit to Sanya we stayed in Haitang Bay.
Haitang Bay is one of the newer tourism areas (although everywhere is relatively new!). The bay is about 45 minutes up the coast from Downtown Sanya, and therefore it is a bit of a journey if you want to go anywhere.
But if you are looking for a luxury resort, this is your place! Haitang Bay stretches over a whopping 42.8km of coastline! Along the coast are numerous high-end resorts, all offering resort-hotel facilities- once you're in, there is no need to leave if you don't want to!
However, be warned that the sea here is not safe for swimming. There are dangerous undercurrents. The beach is great, but you need to keep your feet on dry sand if you choose to stay in Haitang Bay!
There are a few cool things to do in Sanya based here too, such as the aquarium that I discuss shortly.
Accommodation in Haitang Bay: My picks
Luxury: Famous for its sister in Dubai, the Atlantis Sanya offers the ultimate luxury in Sanya! With a world-famous aquarium and waterpark, along with many excellent restaurants, bars and shops, you should visit this hotel- even if it's just for a visit!
Modest: Friends of mine stayed at the Grand Hyatt Sanya Haitang Bay Resort and Spa and LOVED it. The three themes pools are great it is conveniently located next to some handy shops, restaurants and fast food outlets, KFC and Pizza Hut.
Something different: We stayed in the Elnob Seaview Aparthotel Hai Tang Bay Sanya during our visit to Haitang Bay. The apartments were large and clean and the location was great- it was right next to the Atlantis so we could enjoy the amenities over there without having to pay the price tag for a room- winning!
Clear Water Bay
If you're looking for a relatively unspoilt beach, then head to Clear Water Bay. This area offers several new and exclusive luxury developments that would make for a brilliant beach escape- but they do come with a price tag!
Clear Water Bay is situated between Downtown Sanya and Haitang Bay. The waters here are known for being crystal clear, and it is said that they remain so for at a depth of at least 12m!
The downside to staying here is that it is a bit of a journey to get anyway. But I guess that's the price that you pay for a quiet and unspoilt beach!
Accommodation in Clear Water Bay: My picks
Luxury: The Narada Resort & Spa Perfume Bay Sanya offers world-class service. The private villas with their own pools are large and clean and the views are incredible!
Modest: The Westin Blue Bay Resort & Spa is a nice resort with good levels of service. And the pool is HUGE!
Something different: Another friend of mine stayed at the Sanya Xiangshui Bay Marriott Resort & Spa. This hotel is great for big kids who love rock climbing and waterslides! The sunsets here are to die for!
Things to do in Sanya
OK, lets get down to the crux of it- I know that I can laze around the pool and chill out on the beach, but what other things to do in Sanya are there?
Well actually, there are plenty of things to do in Sanya!
Travelling in China isn't always easy. Most people do not speak English and the Chinese people are very much a 'group tour' population. So Sanya, like other places in China, isn't really geared up for independent travel.
Having said that, it doesn't mean that it isn't possible to travel independently in China, because you absolutely can! The difficulty is finding out the information that you need to know…
Just like when we travelled to Qiandao Lake, famous for its 1000 islets, we were completely in the dark when we visited Sanya. There are very few (if any) English websites that give you the information you need. In fact, travelling in China reminds me of when I went backpacking back in 2011. At that time the Internet wasn't nearly as helpful as it is now and you very much relied on word of mouth and personal recommendations to get you to the best places.
The list that I have compiled for you below about the things to do in Sanya is a collation of my own personal experiences, recommendations from friends of mine and reviews that I have read on the Internet (which are few and far between).
So, without further ado, I present to you, the best things to do in Sanya-
Walk on a bridge made of glass Yanoda Rainforest Cultural Tourism Zone
This was one of the most unique things to do in Sanya. Visiting Yanoda rainforest was one of the highlights of my trip, and I would definitely recommend it as one of the best things to do in Sanya.
You can easily spend a day or two here exploring the rainforest area and doing the activities. Or you can come for a few hours, like we did.
Located about 45 minuted from Yalong Bay, Yanoda is China's only tropical rainforest. It is home to 25% of China's mammal diversity and 33% of its bird diversity.
Development of this area is still underway. At the time of writing there was a forest zip line, hiking trails, the famous glass bridge and rock climbing. I know that other activities are also planned and a hotel is being built too.
We loved the glass bridge- walking across here is without a doubt, one of the best things to do in Sanya! The views were spectacular and the fake cracking noises at the end were hilarious!
If you want to visit Yanoda Rainforest Cultural Tourism Zone then you can either take a DiDi, hire a private car or book a tour. If you want to make the most out of your visit then booking a tour, like this one, is probably worthwhile because the area is huge and the best bits are not necessarily easy to find!
Note- there is a height restriction of 1.2metres to ride the zip line, so this is not for young children. After loving the zip line at Sentosa in Singapore, Isla was very disappointed not to be allowed to ride.
Play with monkeys on Nanwan Monkey Island
Nanwan Monkey Island is a state-protected nature reserve. The island features more than 2500 macaque monkeys, many of which have become domesticated.
You can reach the island easily by DiDi or private car. It is in the Lingshui area. It took us around 40 minutes to reach the island from Haitang Bay.
I keep referring to it as an island, but actually it's not. The nature reserve is actually on the Nanwan peninsula, which can be reached by cable car.
Taking the cable car is part of the experience, and it was one of my daughter's favourite things to do in Sanya! The cable car is the longest oversea ropeway, which is 2138 meters long and travels at the speed of 6 meters per second.
Once you arrive in the reserve you are free to wander around at your leisure.
There are some monkey shows that are put on throughout the day, but I fundamentally disagree with this- it is unethical and cruel, so we obviously did not attend any shows.
The reserve was a nice area with lots of biological diversity. The monkeys seemed happy, which is nice to see, and which is sadly not always the case at tourist attractions which involve animals. My girls loved watching how the monkeys played together.
Nanwan Monkey Island is open everyday 8am-5pm and the ticket price is 160rmb. Small kids go free and bigger kids are half price. For my kids, this was one of the best things to do in Sanya.
Note- When you come to Nanwan Monkey island be careful not to get too close to the monkeys and do not take any food with you. The monkeys are wild animals and they may bite. If they suspect that you have food in your bag they may climb on you. Monkeys often have rabies, so if you are bitten you will need to go straight to the hospital for a series of rabies shots- don't take the risk and keep your distance.
Zip line through the forest at Yalong Bay Tropic Paradise Forest Park
If adventure tourism is your thing, then this is one of the best things to do in Sanya.
Located in Yalong Bay, the Tropic Paradise Park is known as one of the best things to do in the area.
At Yalong Bay Tropic Paradise Forest Park there are bridges and zip lines, and the views both within the forest and beyond are incredible.
A glass walkway (impressive, but not as good as the one at Yanoda Rainforest) gives you the chance to look down at the beautiful green forest, and there are places to get refreshments here too.
With orchid gardens, a swinging bridge and more, you'll be spoilt for choice when it comes to deciding what to do first here.
Be sure to wear good shoes, and be aware that it does get pretty humid here!
Take a boat to Wuzhizhou Island
Wuzhizhou Island is a small iIslet off the coast of Sanya. It is famed for its crystal clear water, sandy beach and water sports including scuba diving, snorkelling, and the parachute sailing.
You can reach the island by boat in about 10 minutes from Haitang Bay and about 30 minutes from Yalong Bay.
Many tourists choose to visit this island, too many actually. In the peak season up to 20,000 people are permitted to visit the tiny 1.48 square kilometers sized island each day. Many people complain that the island is crowded and overtourism makes for an unpleasant experience.
However, if you choose to visit after 5pm or during the off-peak period, the island is a great place to visit! The best way to avoid the crowds is to book a private tour, like this one, it costs a bit more if your group size is small, but is totally worth it, nobody wants to be fighting for a space on the beach!
There are over 2700 wild plants non the islet, including Spindle Tree Fern and Dragon Tree, the oldest plant on the earth. The lush rainforest combined with the calming ocean waves is a wonderful place to relax and be at one with nature, as long as you can escape the crowds!
Swim with sharks at The Lost Chambers Aquarium
A visit to the Atlantis Hotel is a MUST for anyone coming to Sanya, if for no other reason than it is home to The Lost Chambers Aquarium. In fact, this is one of the most popular things to do in Sanya.
Fortunately, you don't have to be staying in the hotel to visit the attractions at the Atlantis, just make sure that you use the visitor entrance.
A visit to The Lost Chambers Aquarium is one of the best things to do in Sanya. The aquarium is home to more than 86,000 sea creatures, spanning 280 different species.
You can simply take a visit here, or you can opt to take advantage of the special experiences on offer. You can pay to swim with beluga whales, dive with hammerhead sharks, play with star fish, go snorkelling or take a boat tour.
You can book your tickets on the Atlantis website. I recommend avoiding late afternoon and wet and rainy days because the aquarium can get extremely busy.
Eat at an underwater restaurant
Ossiano Underwater Restaurant, also found in the Atlantis Hotel, is one of the most unique things to do in Sanya.
The restaurant features floor-to-ceiling windows, allowing diners to see into the famous Atlantis Aquarium. You can watch the enormous sting rays, turtles, sharks and other marine life swim past as you eat your meal, it is a very cool experience!
The menu is predominantly seafood, which is no surprise. The black cod fish and Ossiano Signature Seafood Pasta are said to be particularly good. And the Wandering Earth dessert is divine!
It is recommended that you book a table in advance, because the restaurant does get very busy as this is one of the most popular things to do in Sanya. Ossiano Underwater Restaurant is open for lunch between 11.30am-2.30pm and dinner between 5.30pm-9.30pm.
The restaurant is quite pricy, but I think that is no surprise, given that it is a super posh underwater restaurant! The set menu costs 1988rmb.
Visit the website to book a table and to see the full men.
Splash out at the Aquaventure Waterpark
The Aquaventure Waterpark is Asia's largest waterpark and one of the favourite things to do in Sanya.
The rides here are second-to-none and are rated as some of the best in the world. You can wizz past sharks whilst on the water slides, freefall from 24m on Speedloop and go surfing in the wave pool.
We decided not to visit the Aquaventure Waterpark on our visit to Sanya because the rides appear to be more geared towards big kids (our kids were 1 and 3). But I will admit, I do feel slightly disappointed that I didn't get my adrenaline rush on the Tornedo Storm!
You can book your tickets on the website or turn up and pay at the door. Tickets are 358rmb each.
Have a beach day
There are a few different beaches in the Sanya area.
Sanya Bay is probably the biggest and most well known; it is directly south of Sanya City, and it has a 22 km beach with a peninsula at the east side. Xidao and Dongdao islands are here, and you might see dolphins!
Other beaches in the area are:
Houhai Bay, which is great for surfing and snorkelling
Baifu Bay, which is greta for sunbathing and SCUBA diving
Dadonghai Beach, which is one of China's cleanest beaches
Haitang Bay, which has amazing views and a large beach
All of these beaches can get busy, so head out early and find the perfect spot.
There are eateries and shops in the vicinity of all the beaches in this area, too.
Visit the southernmost tip of China
Tianya Haijiao is considered to be the southernmost point of China, meaning people love to visit!
Here you can see the famous Rocks of Sun and Moon. These are essentially two boulders- the sun is the 'husband' and the moon is the 'wife'. The boulders appear to be intertwined, but they are in fact completely separate.
There is also the Southern Heaven Rock This is another boulder – this time with a poem inscribed on the top. If cultural tourism is your thing, this is one of the best things to do in Sanya.
Live the luxury life on a yacht
If you follow me on social media, you will know that I am a big advocate for shopping local. Using local transport providers is one of the ways that you can help to play your part and maximise the positive economic impacts of tourism.
In Sanya, there is a locally-owned and managed company who offer you the opportunity to charter or rent a yacht or a sailing boat.
This makes for a great way to escape the crowds and do something a little bit different with your day. You can also rest-assured that you are doing your part for the local economy!
You can book your own private yacht or sailing boat here.
Watch a show at Romance Park
If you're looking for some evening entertainment, then Romance Park is the place to go. Despite the precarious-sounding name, the nightly show is very highly rated and the Trip Advisor reviews are excellent and it is one of the most popular things to do in Sanya.
The show is hosted in the Sanya Qianguqing Grand Theater, found inside the theme park. The theme park itself is a bit strange, but worth a quick look around. Both the theme park and the show are focussed on Sanya's Local Han culture, Li and Miao minority culture, and folk cultures.
The shows book up fast, especially in the peak season, so I recommend booking online.
Take a walk at Luhuitou Peak Park
Luhuitou Peak Park is one of downtown Sanya's most well-known attractions and one of the most popular things to do in Sanya.
With lovely paths to walk and statues to discover, this is a great place to come to catch the sunset. From the top of the park you can see out across the city and the bays – making it one of the most enjoyable things to do in Sanya.
You might see monkeys towards the top, which is exciting for children, and the famous deer statue is a must-see too.
Be sure to pack your camera if you visit the park, as you'll be spoilt when it comes to gorgeous photo opportunities to help you remember your trip.
Open from 7.30 am until 11.30 pm, there is plenty of time to explore the park. Entry is free for children in 1.2 metres and adults aged 70+ while children measuring 1.2 – 1.4 metres and adults aged 60-69 can expect to pay RMB 25. In off season, adult entry is RMB 35 while in peak season, adults will pay RMB 42 for entry. You can also plan ahead by booking a tour online.
Explore Nanshan Cultural Tourism Zone
Nanshan Cultural Tourism Zone is an incredible unique tourist attraction and another one of the most popular things to do in Sanya. A large-scale eco-cultural tourism zone themed entirely around Buddhism and ecology, it makes for a great day out when looking for things to do in Sanya.
There is a temple, two gardens, a bay, a valley, a Buddha statue and a gold and jade Kwan-Yin statue, which has won a Guinness World Record. Come here if you want sunshine and nature – sandy beaches, colourful flowers and sparkling seas – as well as a chance at spiritual connection!
Entry is free for children under 1.2 metres, and adults aged over 70. For children measuring 1.2 – 1.4 metres, and adults aged between 60 and 69, entry is RMB 73. Adult entry is RMB 145 in peak season and RMB 121 in off season. Nanshan is open between 8.00 am and 5.30 pm year round.
Enjoy the scenery at Sanya Orchid World
Sanya Orchid World is the world's largest orchid themed park, located in the Tianya District. This is one of the most unusual things to do in Sanya!
Another example of ecotourism, there are around 2 million orchids there with around 3,000 species. 300 of these are rare wild species! There are 8 scene zones within the park, which covers around 26 hectares.
Designed like a classic Chinese garden, this is one of the most beautiful things to do in Sanya – if you are interested in flowers and nature, you can't miss visiting the park. Again, you absolutely can't forget your camera…
Take a trip to Phoenix Island
Referred to as the 'Oriental Dubai', Phoenix Island is actually two islands. These islands are some of the most interesting things to do in Sanya.
The islands are artificial, and located off Sanya Bay. The western island is still being constructed, but the eastern island is already wildly popular.
There are eight sections, including a 7-star hotel, a conference centre, a cruise ship harbour, shopping streets, a theme park and more.
Visiting Phoenix Island is one of the best things to do in Sanya. Accessible by ferry, it makes for a great day out if you've had your fill of nature, fresh air and the outdoors. Go shopping, admire the hundreds of yachts at the marina, go out for dinner and so much more. This is a great sprinkling of luxury for your trip to Sanya!
Have some playtime at Haichang Fantasy Town
Haichang Fantasy Town is a theme park designed around the ocean, with 8 'bays' and a huge variety of things to do.
Open 24 hours a day, Haichang Fantasy Town has 13 main attractions and two theatres with so much to see and do. Jump on the Sanya Eye and enjoy incredible views of the city and coastline (you'll be 88 metres in the air) then discover everything else the theme park has to offer.
From simulators to pirate ship rides to bars and restaurants, there is something for everyone and you won't get bored. There are traditional African dancers, mermaid shows, rides, nightclubs, bars and so much more.
Visiting Haichang Fantasy Town makes for a fun day out and is one of the many cool things to do in Sanya. This is one of the best things to do in Sanya for kids.
Go diving
This is one of the favourite things to do in Sanya amongst divers.
Whilst Sanya is no Blue Hole, it does have its fair share of marine life for you to admire. The area is especially known for its angelfish and clownfish.
Dadonghai provides visitors with Barrier Reef Diving, Pirate Bar Diving Club, and Global Diving Base. It also offers snorkelling trips with a guide and all equipment included.
About 330 yards (300 meters) east along the beach is the Seashore Park. Standing on the top of the small hill inside the park, you have a panoramic view of the beach and the vast water. On the east side of the beach there is an Amusement Park with thrilling activities such as a Pirate Boat, merry-go-round and bungee jumping
Relax at the hot springs
If relaxation and aromatherapy is high on your list, then there is no place better than the Nantian Hot Springs. This is for sure one of the best things to do in Sanya for relaxation.
These thermal pools, located within a spa resort, provide you with the opportunity to relax in the natural hot springs. There are several pools of different sizes and some have fish that will eat the dead skin on your feet. There is also a playground.
You can book a private tour to the Nantian Hot Springs with Trip Advisor here.
Learn about the local Hainan culture on a walking tour
If you enjoy cultural tourism, and you are interested in learning a bit more about the Hainese culture, then you should definitely sign up for the two hour walking tour.
The tour takes you through the streets of Sanya where you can see how the local people live. You will visit markets and some of the most historical buildings in the area. It's fascinating!
Quad bike along the beach
Over the past few years more and more businesses have popped up in Sanya. From banana boat rides to quad biking along the sand, there are lots of ways to fill your day.
Many people will walk the beachfront looking for people to buy their quad bike tours. You can ride with a guide or on your own.
Whilst quad biking can be really fun, I personally found them a bit annoying- I prefer to listen to the sounds of the waves and my kids playing in the sand rather than a noisy engine driving up and down the beach! Nonetheless, this is one of the most popular things to do in Sanya.
Take part in your favourite water sports
Watersports is one of the most popular things to do in Sanya. There are several different water sports activities that you can take part in in Sanya.
The busiest area for water sports is Yalong Bay, so if this is something that interests you, you may prefer to stay in that area.
Grab some duty-free bargains
Earlier this year the Chinese Government announced that the spending limit on duty-free items was increased to a whopping US$10,000! The intention is that this is another way to entice visitors to Sanya- to grab some duty-free bargains.
The Haitang Bay Duty Free Shopping Complex is the best place for shopping in Sanya. It is a large shopping mall, complete with all of the designer brands you could want, making this one of the favourite things to do in Sanya.
The building architecture is pretty impressive too!
The best Western restaurants in Sanya
As I mentioned earlier, if I had any complaints about our trip to Sanya, it was not being able to find many Western eateries. If you are anything like me one of your favourite things to do in Sanya will be eating your favourite foods.
Here are a few that I came across that I would recommend-
Beach Barbacoa @ Edition
Located at the Sanya Edition hotel, this is a fine dining restaurant serving seafood and barbecue with an Asian twist as well as vegetarian and vegan options.
Their coconut rice and papaya salad both come highly recommended!
It is on the beach, meaning you can dine barefoot and feel at one with the sea and sand; eating at sunset is a real treat here, too.
Alcohol is served here, the restaurant has WiFi and it accepts international credit cards.
This restaurant is perfect for a fancy, romantic evening in Sanya!
Casa Mia Italian Restaurant
Nothing like a good pizza when in China, right? If you ewantg something a little bit classier than Pizza Hut then Casa Mia is your place.
There is a wide selection of choices and the seafood linguine is said to be one of the best! The pizzas are great too.
The view of Sanya Bay is a great treat. You'll get a nice breeze on the terrace, and it's an all-round nice experience if eating out is one of the things to do in Sanya on your list.
Baan Rim Nam
This is actually a Thai restaurant, but again it is really highly recommended by locals and visitors.
It is located at the Anantara Resort, all dark wood and mirrors and pure elegance.
Curried crab is on offer here, and it has been praised a lot!
Sit on the patio if the weather allows for it, and enjoy friendly service and delicious food.
Sanya Dolphin Sports Bar & Grill
If you want to experience something a bit western, head here.
This is one of the few places in China where cider is actually on the menu, and it offers American and European dishes with vegetarian options.
There are TVs showing sports, indoor & outdoor seating, free WiFi and more. They also have live music here!
Goji Kitchen
Something sophisticated? Goji Kitchen is a great option, with a warm ambience and plenty of authentic local food on the menu.
There are local-inspired cocktails, and tasting them is one of the most fun things to do in Sanya.
Breakfast here is highly recommended, and it is reasonably priced too.
Sit outside on the deck and enjoy your food and drink in the Sanya sunshine.
Bread Street Kitchen and Bar
The Bread Street Kitchen and Bar is one of Gordan Ramsey's restaurants, found in the Atlantis Hotel. Whilst most Chinese people probably don't have a clue who he is, if you come from Europe then you probably do!
I personally love Gordan's restaurants. I had a burger and it was delicious. The kids meals were great too and the service was second-to-none! This was one of my favourite things to do in Sanya.
Things to do in Sanya: To conclude
Despite many people thinking that Sanya is just a 'lie on the beach' destination, there are actually lots of things to do in Sanya. I hope that this article on the things to do in Sanya has been helpful to you and that you have an enjoyable trip.
If you found this article on things to do in Sanya helpful, I am sure you will love these too: